New York Philharmonic: Alan Gilbert
Thursday, November 29, 2012 at 7:30 PM
Friday, November 30, 2012 at 2:00 PM
Saturday, December 1, 2012 at 8:00 PM

Alan Gilbert conducts the New York Philharmonic Orchestra at Avery Fisher Hall.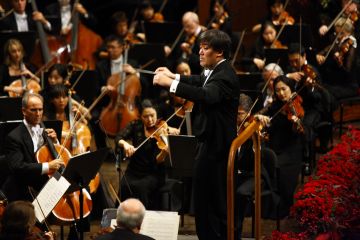 The New York Philharmonic are one of the "big five" American orchestras and was formed in 1842. Alan Gilbert is the Philharmonic's current music director and is the conductor for this concert.
The program is as follows:
Steven STUCKY Symphony (New York Premiere)
Barber – Violin Concerto
Rachmaninoff – Symphonic Dances
Rachmaninoff's Symphonic Dances, Barber's Violin Concerto with Violinist Gil Shaham.
Steven Stucky is a Pulitzer Prize-winning American composer.
Samuel Osborne Barber II (March 9, 1910 – January 23, 1981) was an American composer. Adagio for Strings (1936) was his most famous composition.
Sergei Vasilievich Rachmaninoff (1 April – 28 March 1943) was a Russian composer, pianist, and conductor. Some of his orchestral work includes The Rock (Op. 7), Caprice bohémien (Op. 12), The Isle of the Dead (Op. 29), and the Symphonic Dances (Op. 45).